Bellotti Ezio: a family story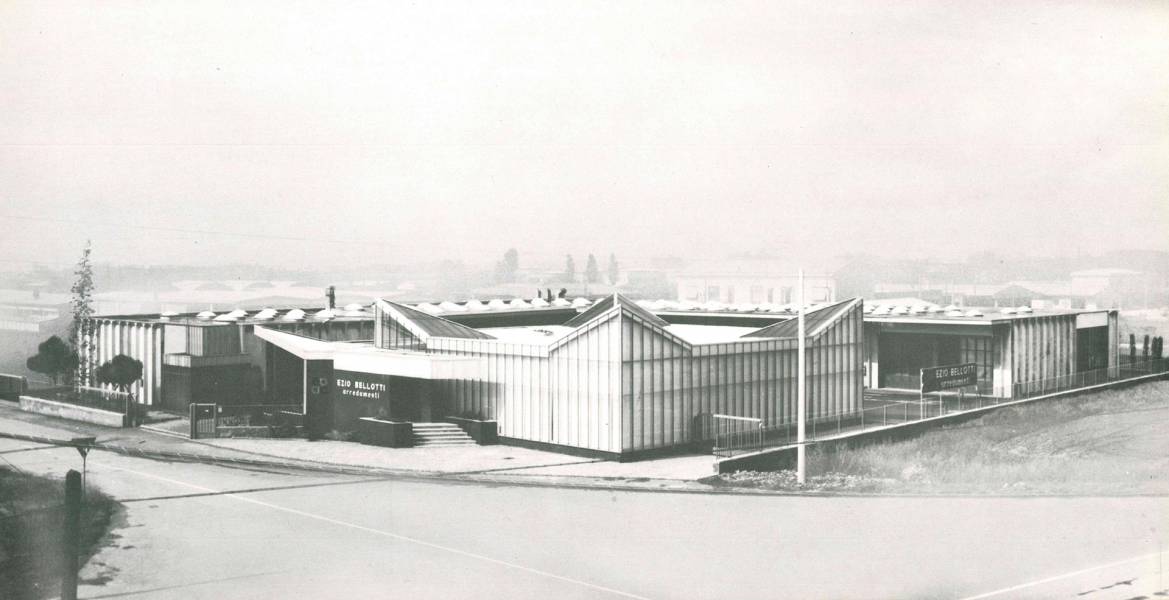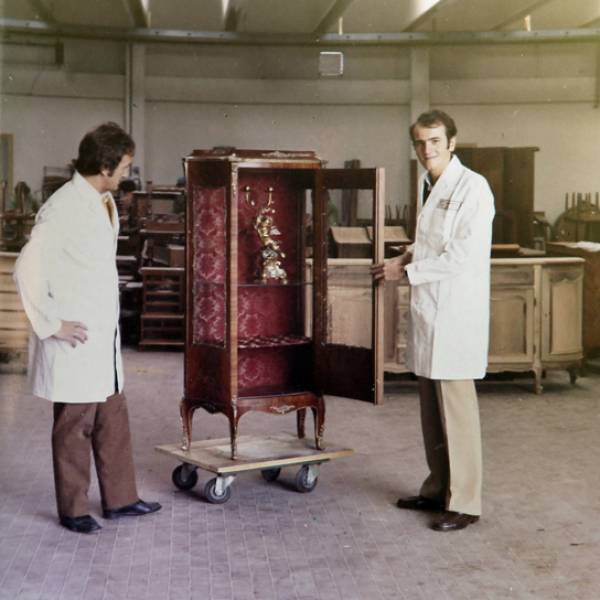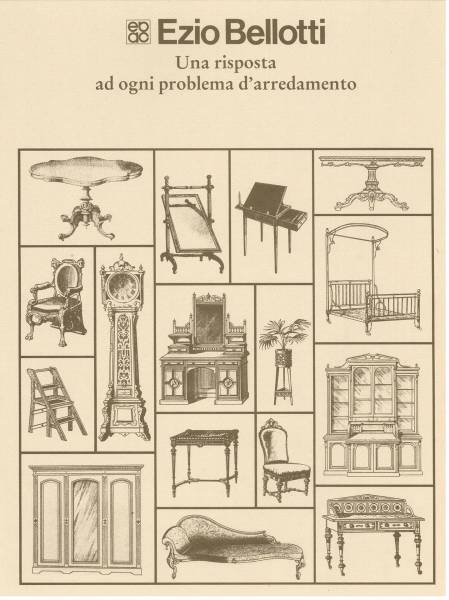 "That's how you make your dreams come true". It all began here. From a warning, advice that is also a challenge, given by a father to his son. The story of Bellotti Ezio truly starts from a desire to overcome personal and physical limitations. Courage, initiative, and vision are the special ingredients that flavoured this aspiration, today seen in a company that has taken its founder's name all over the world.  
 From origins in craftsmanship to industrial growth
 "I remember the scent of wood perfectly. When I was little, I spent a lot of time in our grandfather Enrico's workshop, one of the small craft companies in Brianza where chair frames were made. I remember his rough hands, marked by experience, and the smell of the wood chips that invaded rooms, like confetti. But that wasn't enough for my father, he had big dreams". The story is told by Donatella Bellotti, from the third generation of the family, and today heading the company along with her sister Federica. "One day, my grandfather handed him an unfinished chair and said: "If you can do something with this chair, you can make your dreams come true". My father took the chair and began going from town to town, from shop to shop trying to sell it. And he did".
One after another. The orders poured in, the "workshop" started to expand and the dream began to take shape. It was the 1970s when Ezio Bellotti laid the foundations for the new premises in Via Buozzi, Cabiate (now the location of the current headquarters): a new building containing not only the new production departments, but the entire future of the company that was just around the corner. 
"The new facility's production capacity allowed our father to look to foreign markets with confidence. He created his first catalogue and began to travel the world in search of new customers, discovering international markets", Federica continues. "Success on an international scale soon arrived, so much so that in 1979 he founded the Marka Italia consortium". 
The story of Bellotti Ezio is the story of the area with which it has ties, and Marka Italia was a project, one that was pioneering for its time and gave energy to the entire region and its businesses: Ezio Bellotti pooled together a collaborative group of companies (classic and modern) to bring Italian manufacturing to the world and to build a strong sales network abroad. 
Always faithful to its artisanal DNA, Bellotti Ezio expanded its collections (and therefore its catalogues) to satisfy an increasingly numerous and international clientele; right up to expanding the facility itself (this is the 1980s) to increase production departments, technology, offices, showrooms and staff.
 Generations compared 
 It was during one of his many trips abroad for Marka Italia that Ezio Bellotti passed away. "I was 16, it was 1987. I had to leave school and I went straight to work for the company full time. Before then I had helped my father in my spare time, or during the Salone del Mobile in Milan, but I got no special treatment: it was a way to get to know about working life, just like any other employee does, because, as my father used to say, "to get to the top you have to work your way up". This was a fundamental lesson for Donatella, who learned the trade on the job, watching her older sisters, Federica and Barbara, who were also involved in the family business. 
A new, just as sudden, change of course took place in 1994, when Barbara departed from the company, leaving Donatella and Federica to take over the reins, despite having relatively little experience. 
"I was 24 years old, Donatella 21: imagine two young women of that age running a company," says Federica. "At first we had to deal with suppliers who were much older than us; it was difficult to get their respect and trust. Yet, we did not lose courage; we always believed in what we were doing". During the generational transition, they received the precious support of Natalino Marelli, their father's loyal right-hand man, who took over sales until 2021.  
"Today a new era is beginning, one that is made of contemporary ideas and digitalisation", Donatella concludes. "The company is renewing itself again, beginning with people: the welcoming of young, dynamic people, new creative collaborations, an art director who is revolutionising the image of Bellotti Ezio; but also through technology (from the new website to social media) so we can talk to the world even when we can't travel; and lastly, thanks to new collections alongside the historic one. All of this has led to a new phase for Bellotti Ezio". 
 The strength of the family 
 What does being the third generation mean? "It means having great responsibility. Towards the people who work with us and towards the past that has allowed the company to reach today's heights. This is why Federica and I can't give up, but we intend to continue this journey without unwaveringly". Donatella's character comes through clearly: determined, strong, with firm principles. It is the perfect contrast to Federica who is creative, affable and good-natured. Together they complement each other perfectly, which, as Federica says, enables "our father's dream to continue. He wanted to create an internationally renowned brand producing unique, elegant collections; and he succeeded. Now it's up to us to bring new life to this project. Not out of duty, but out of passion. That love for his work that he had and that he has passed on to us his daughters".
So being the third generation means protecting and passing on the values of excellence and craftsmanship that laid the foundations of the company, adapting them to modern times by introducing innovative industrial technology that enhances the quality of our offering. Maintaining a family dimension, an almost "sartorial" dimension, Bellotti Ezio has strengthened ties with its network of local suppliers, maintains full control over the production process, provides a "tailored" service and products designed to the customer's requirements. 
 The future in their hands
 In the Bellotti Ezio timeline, numerous steps have allowed the company to change and evolve. Entering new markets, launching a new catalogue, expanding. Even more significant is the creation of a new contemporary brand, BelMondo, in 2016. "We began life as manufacturers of classic furniture and for many years we created wonderful, stylish solutions for interiors. But a few years ago we felt the need to have a more modern offering for our customers, spurred by the generational shift that has taken place", Federica explains.
BelMondo was designed by architect Giovanni Luca Ferreri in partnership with the company's technical team. A collection created for a thoughtful audience, which gives a high quality product a more linear, fresh allure that is able to satisfy the trends of international markets. A solution that does not overshadow, but rather complements perfectly the classic collection, which, by definition, will never go out of style. "For our customers, Bellotti Ezio is synonymous with elegance, luxury and value. True connoisseurs will always look for classic furniture, and our job is to make it current and exclusive".
On the back of this idea, another significant step was taken in 2021, a year of great change worldwide, which the company responded to by modernising its entire ecosystem. Donatella explains: "Although our primary objective is to protect the company's know-how, we also want to keep up with the times and therefore it is fundamental to invest in new technologies and the skills of our craftsmen. Our current plan is to create a perfect balance between tradition and innovation. Only this way can we look forward, although we recognise that our future is in fact already here, right now, every time we place the utmost focus on our work and on the smallest of details".